About
---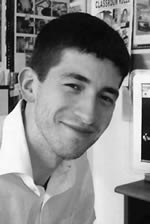 I have been a professional storyboard and concept artist living in London for over 10 years. Working extensively in the field of storyboards for advertising agencies I have done work for most of the major studios in central London for clients such as Hitachi, AA, Visa and Nescafe.
Beside advertising I work with Publishers on a regular bases producing images in a variety of styles; from realistic painted book jackets, to drawing comic strips and colouring the famous Garth comic strip in the Daily Mirror.
My portfolio also includes illustrating the life story of famous footballers for Match of the Day weekly, Wallace & Gromit comic, Commando, the Beano and illustrations in People's Friend.
I pride myself on my professionalism, and I am always willing to "go the extra mile" to ensure that every completed project I hand in is up to my clients' satisfaction. I am friendly, reliable and committed to do the best job possible.
I hope you enjoy looking round my website. If you would like to get in touch with me to discuss anything artwork-related, you can contact me via the Contact page of this website.
I will also be updating my Facebook page with new artwork regularly – Martin Baines Facebook page